BUILD A THRIVING CORPORATE CULTURE THAT DOESN'T STOP
WITH THE FIRST DROPPED BALL.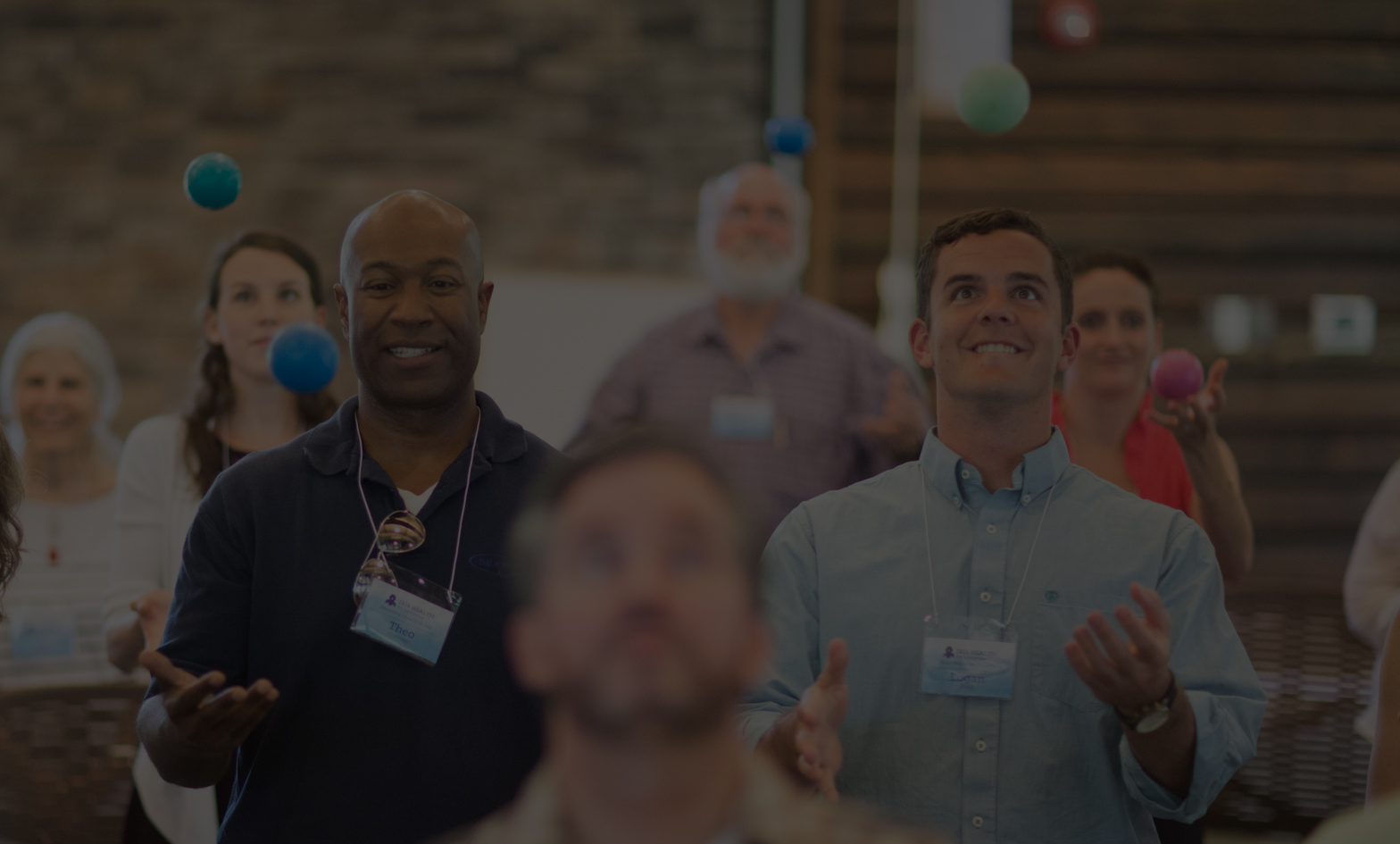 INTRODUCINg
THE learn to juggle challenge!
ONLINE AND ON-SITE EMPLOYEE ENGAGEMENT THAT BLENDS WELLNESS, TRAINING, & VOLUNTEERING SOLUTIONS
From the White House to organizations world-wide, learn why our team is trusted by top brands and companies to inspire, engage, and empower their employees!
CHANGE THE STORIES YOUR EMPLOYEES TELL THEMSELVES ABOUT WHAT THEY CAN OR CAN'T DO.
The Learn to Juggle Challenge is a "cross-training" catalyst designed to boost your employee engagement & corporate culture through a holistic model of well-being:
Physical, Mental, & Social Well-Being.

Personal + Professional Development.

Employee Giving & Volunteering.
HAVE A BALL. LEND A HAND.
INTRODUCTION FROM OUR DIRECTOR,
DR. JACOB WEISS
The Learn to Juggle Challenge features Do Good & Juggle's "Path to Success" Learning Framework & Methodology.
What we do:
e-learning training & wellness courses
Online Learn to Juggle Challenge:
7 Days of Guided Video Training Course, going from Beginner to 3 Ball Juggling.

Options for company-wide competition/ teambuilding.

Growth Mindset Workbook:
Downloadable Growth Mindset Workbook complements the videos to help break through limiting negative self-talk.

Buy One Give One Juggling Balls:
Each employee receives their own juggling ball set, and a set is donated to non-profits programs they select.
"WE ALL HAD A BLAST - I HAVE NEVER HEARD SO MUCH POSITIVE FEEDBACK"
NEW CANAAN YMCA
impact on employee training, innovation, & leadership
Help Your Employees Discover Their Full Potential, at Work and at Home
Embrace failure, and harness the power of a growth mindset.

Discover success through creative problem solving.

Learn how to learn new skills or processes.

Nurture soft skills of empowerment, adaptability, and servant leadership.

Think BIG, and don't forget to have fun along the way.
The online course is customized for your organization to highlight your message and core values. Your employees feel pride as a valued member of your overall organization, culture, and community.
Watch a Powerful Individual Transformation in just 3 Minutes!
Get Motivated for Success by Learning to Juggle!
The metaphor and process of learning to juggle will push your employees to try the impossible, make progress towards their goals, manage stress, and learn to succeed despite the obstacles and barriers they encounter!
Develop your organization's rising stars into effective communicators, collaborators, and servant leaders who inspire those around them.
"HIGHLY SKILLED PROFESSIONALISM AND MULTI-FIELD EXPERTISE WITH A POSITIVE ATTITUDE AND A SENSE OF FUN."
Tennessee Performing Arts Center
impact on employee wellness
A Multifaceted Approach to Well-Being
The online course is designed as a joyful catalyst to kick start your overall corporate wellness initiatives, and create "aha moments" that encourage more participation in other wellness offerings.
Physical Well-Being
Get out of your chairs, get moving, and have FUN trying something new! Juggling is a great low-impact "cross training" exercise, used both by beginners and professional athletes to develop hand-eye coordination, body awareness, and vision training.
Mental Well-Being
Juggling is a wonderful way to relieve stress. It is a "moving meditation" that nurtures focus and mindfulness in a state of flow.
Learning to Juggle even has been shown to grow grey matter in the brain in as little as 7 days!
Dr. Jacob Weiss on the Benefits of Juggling & Well-Being
Social Well-Being
Embrace a culture of creative play & learning in your workplace through the joy of juggling. Create opportunities for friendly competition/goal-setting, team building, and teaching/learning between employees.
Work-Life Balance: Juggling is a wonderful activity for your team to bring home and share with their own families and community.
"Laughter is the shortest distance between two people."
Victor Borge
"TREMENDOUSLY INSPIRING, IMPRESSIVE, AND AMUSING"
THE MINNIE PEARL CANCER FOUNDATION
impact on employee volunteer programs and corporate giving
Our Philosophy: Have a Ball. Lend a Hand.
The Learn to Juggle Challenge / Do Good & Juggle is a social enterprise that partners with life-changing programs for children, families, and communities, to transform their mindset from "I can't..." to "I can!" through the creative process of learning to juggle.
Your employees will find meaning in knowing that the program that they get to experience is being gifted to those who need it most.
Motivational Buy One Give One Juggling Ball Set for Each Employee
The Motivational Juggling Ball Set is a premium quality product, with three professional juggling balls in a custom gift box.
Buy One Give One: For each employee that receives a set, we donate a set of juggling balls to local and international non-profits that serve families and children.
Each set can be customized around your colors and logos, as a wonderful way to celebrate your brand and mission with your team.
Get your employees excited to participate in more corporate volunteering programs by seeing the impact they can make as they have fun learning to juggle!
"CREATIVELY INSPIRING FOR THE CHILDREN... OPENED A WORLD OF MAGIC IN THE MINDS OF OUR STUDENTS AND FOR THAT WE SAY THANK YOU, THANK YOU, THANK YOU!"
PRIMROSE SCHOOL OF BRENTWOOD
your facilitator
Jacob Weiss, Ph.D. will lead your employees on a journey of growth, creativity, and leadership.
Dr. Jacob Weiss is a leadership consultant, professional entertainer, innovative researcher, and social entrepreneur who builds creative and healthy communities.
With a research background from Princeton University and Vanderbilt University, he brings an expertise in corporate social responsibility, community leadership, and online strategies for building healthy communities and organizations. He leads programs at national and international meetings on community engagement, communication, servant leadership, and the importance of creativity and a growth mindset for innovation.
With expertise that crosses industries from events & hospitality to marketing/PR to design thinking and community engagement, he works with corporate clients, start-ups, and large organizations to transform their brands through new approaches to giving, listening, and community partnerships.
the #1 reason to Partner with us:
Our Team Helps You Confidently Design Your Employee Engagement Programs
We have extensive expertise in professional development, motivational experiences, corporate social responsibility, and employee engagement. In addition to providing high-quality experiences for your employees, we work as a partner with your team to customize the program around your brand, messaging, and audience.
Most importantly, you get a good night's sleep, a successful implementation, and passionate advocates for your company and mission.
We look forward to speaking with you soon!